Body Roll Therapy
EXPERIENCE THE BENEFITS OF LYMPHATIC MASSAGE at SMART SHAPE BODY
What is Body Roll Therapy?
Body Roll Therapy combines the healing effects of slimming and lymphatic drainage massages. Lymphatic drainage massages help relieve muscle tension and lose inches from the body, eliminating unnecessary toxins and reducing cellulite.  Body Roll Therapy benefits include — weight loss, cellulite reduction to improved digestion and lymphatic drainage (the flushing of waste products, such as lactic acid that builds up during exercise, from the body). A whole body toxin releaser in one session.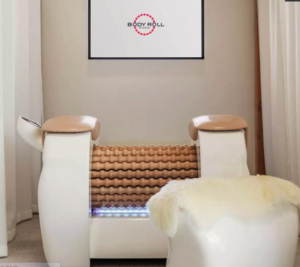 Benefits of Body Rolling Therapy
Lymphatic drainage massage helps circulate blood and lymph throughout the body to promote detoxification. Rolling helps to reduce fat tissue and the appearance of cellulite, provides relief from muscle tightness and speeds up recovery, increases metabolism, and promotes clearer, tighter skin.
Body Roll machines are designed to perform an elevated lymphatic drainage massage that incorporates the benefits of infrared and collagen lights for maximized benefits.
How long does it last?
Body Roll Therapy provides a combination of powerful massage, infrared, and colour-therapy all at the same time. Ask us about our LED light therapy add on. 
How Does it Work?
The BodyRoll machines have a central spinning drum surrounded by beech wood which is both durable and pleasant on the body and because they spin as they contact your body they don't "rub" your skin, they just roll along.
Infared & Color LED Therapy
The drum also radiates Infrared and Colour-spectrum light from powerful LED light sources. The internal Infrared lamps raise your body temperature which not only speeds up the metabolism but reduces "orange peel" skin. Colour therapy puts you in a good mood, elevating your energy while helping you relax.
New Patient Special | Body Roll for $49 for First Time Patient
Request a consulatation